About Us
FutureSoft specialises in the provision of IT solutions for corporate clients who wish to outsource their existing IT department, add expert knowledge to it, or those who wish to have an IT solutions department. We are constantly at hand to ensure that the problems you face are dealt with quickly, effectively and professionally. By building a relationship with you, the client, we can evaluate your business IT needs and deliver the IT products and services that would allow smarter working practise, as well as ensuring your current system is professionally maintained.
Utilising the latest technology that allows our consultants to instantly access your computers over the internet and control them (as if we were sitting in front of them), we are able to diagnose and solve most issues using our specialist knowledge immediately.
Our Mission Statement:
"To provide the very best IT solutions."
- Our company mission statement is simple and focused. We are dedicated to helping companies achieve the maximum potential from their IT investments.
Our Goals:
Strategy: Assisting management in developing an IT strategy appropriate to the needs of the business.
Advice: Providing advice on the selection of IT equipment with particular emphasis on reliability and value.
Smarter: Installing hardware and software and configuring for maximum reliability, allowing faster, smarter working.
Solutions: Diagnosing and rectifying any faults that occur in a timely manner, whilst keeping you notified of the progress.
Our Values:
Customer service: We pride ourselves in the service we provide and the relationships we hold with our clients.
Integrity: Our actions will always be moral, reflected in our honesty and commitment to providing the best solutions.
Work ethic: Our team is focused, motivated and dedicated to helping you make the most of your IT systems.
New technologies: We embrace and adapt to future technologies, allowing you to benefit from current strides in information technology.
We offer a wide range of IT services that your company could benefit from. Our expertise in the IT field will allow you to go about your everyday business without the worry of managing your IT resources.
Click here to contact us to arrange a meeting with one of our consultants. We look forward to hearing from you.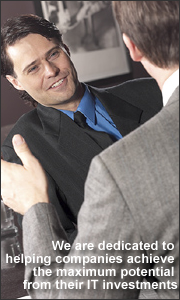 To enable us to best help you we have devised a downloadable questionnaire. Download here