IT Support Services
We provide the IT skills and products you need to take your company forward. We can work both remotely and on-site, daily or periodically. You can be confident that with one simple phone call, you will have an experienced IT expert to solve any problems or provide solutions on the IT issues you are facing.
Listed below are just some of the technical support services we offer.
IT helpdesk - support of desktop computers, notebooks, servers and applications
Network installation, configuration, integration of corporate systems and maintenance
Managed internet security, firewall and virus protection
Remote network access
Competitively priced hardware and software procurement
On site and off site computer support and emergency callouts
Online data backup and restore service more Information about our Data Backup Service
The Benefits of using an External Service Provider
Access to specialist/expert support
Improved service levels of IT
Lower costs of IT
Predict costs more easily
Enable company to concentrate on core business
To spread the cost of planned IT investment
Faster implementation
Free up IT staff / Reduce staff head count
More reliable IT
Better IT strategy
Better management information
We provide tailored services to suit your company's needs.
Online support for your servers and PCs including pro-active patch management, diagnostics and patch fixes. Supporting the hardware and software that drives your business. When something goes wrong with your IT system you, your staff and your customers suffer – in short your business suffers, customer relations are hit and revenues fall.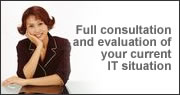 We offer a full consultation and evaluation of your current IT situation before preparing a written report with our recommendations and proposals. Our report will provide a clear outline of how implementing the changes will benefit your business. We are then able to tailor our service agreements to the precise needs of your organisation.