Site Terms of Use
Thank you for using the FutureSoft website (the "Website"). The following are the terms and conditions (the "Terms" or the "Agreement") under which you may use the Website. Please read this page carefully. By accessing the Website you accept and agree to be bound by these Terms. If you do not accept any of the Terms stated here, do not use the Website. FutureSoft may, in its sole discretion, modify or revise these Terms at any time by updating this page. Users are bound by any such modifications.
1. General
This website is owned and operated by Bizolution Ltd and is made available on the following terms and conditions. By using the Website you accept these terms and conditions, which shall be interpreted according to the laws of England.
2. Data Protection
FutureSoft's use of personal information supplied by you when you use this Website is governed by our privacy policy.
3. Licence
3.1 FutureSoft grants you a non-exclusive licence to access and use the content in this Website for your personal purposes. You may not reproduce or distribute any part of the content for commercial purposes.
3.2 You acknowledge that the contents of this Website, including but not limited to: text, graphics, illustrations, logos, software, trademarks, service marks and other material ("Material") belong to Bizolution Ltd and are protected by copyright and other laws.
4. Limitations of Liability
The FutureSoft Website and materials contained therein are provided on an "AS IS" basis without any warranties of any kind, either express or implied. Bizolution Ltd., to the extent permitted by law, disclaims all warranties, included but not limited to: warranties of title, fitness for a particular purpose, and non-infringement of third party rights.
4.1 Links - Bizolution Ltd. contains links to third party websites that are maintained by others. These links are provided solely as a convenience to our users, and are not an endorsement by Bizolution Ltd. of the contents on such third-party Web sites. Bizolution Ltd. is not responsible for the content of linked third-party sites and does not make any representations regarding the content or accuracy of materials on such third-party sites. If you decide to access linked third-party Websites, you do so at your own risk.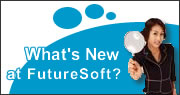 What's new at FutureSoft? All the latest company news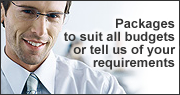 This month's special hardware offers.