Privacy Policy
Our Commitment to Your Privacy
It is our policy to respect and protect the privacy of its site users and business partners. We will not make available your personal data, in any form, to any third party except when required to do so by law.
Data Security
To prevent unauthorised access, maintain data accuracy, and ensure the correct use of information, we have put in place appropriate physical, electronic, and managerial procedures to safeguard and secure the information we hold.
User Information & Cookies
The use of the Website does not require you to provide any personal information about yourself, however during the course of any visit to most websites the pages you see, along with a short text file called a 'cookie', are downloaded to your computer. Cookies are small text files placed on your hard drive by the server of the website you are visiting to help improve the sites functionality and enable us to identify which areas of the site are more popular. They cannot deliver a virus.
How to find and control your cookies:
If you're using Netscape 6.0:
On your Task Bar, click:
1. Edit, then
2. Preferences
3. Click on Advanced
4. Click on Cookies
If you're using Internet Explorer 5.0, 5.5 or 6.0:
1. Choose Tools, then
2. Internet Options
3. Click the Security tab
4. Click on Custom Level
5. Scroll down to the sixth option to see how cookies are handled by IE5 and change to Accept, Disable, or Prompt for action as appropriate.
If you're using Internet Explorer 4.0:
1. Choose View, then
2. Internet Options
3. Click the Advanced tab
4. Scroll down to the yellow exclamation icon under Security and choose one of the three options to regulate your use of cookies.
In Internet Explorer 3.0:
You can View, Options, Advanced, then click on the button that says Warn before Accepting Cookies.
If you're using Netscape Communicator 4.0:
On your Task Bar, click:
1. Edit, then
2. Preferences
3. Click on Advanced
4.1 Links - This website contains links to third party websites that are maintained by others. These links are provided solely as a convenience to our users, and are not an endorsement by us of the contents on such third-party Web sites. We are not responsible for the content of linked third-party sites and does not make any representations regarding the content or accuracy of materials on such third-party sites. If you decide to access linked third-party Websites, you do so at your own risk.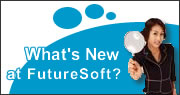 What's new at FutureSoft? All the latest company news.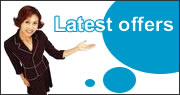 This month's special hardware offers.